In just a few weeks, it will be time for one of the most exciting weekends in Sheffield… The Festival of the Outdoors. This is a big deal – Sheffield is the Outdoor City 24 hours a day, 7 days a week throughout the year, but in March things step up a notch. It's the Festival of the Outdoors. And on the weekend of 21st – 23rd March, well, things REALLY kick off!
Two major events are taking place over this weekend, the Big Running Weekend and Sheffield Adventure Film Festival. This year Runners against Rubbish are proud to say that we're involved in both events.
ShAFF
is the biggest urban adventure film festival in the UK and it's completely awesome! This year there is a really strong theme of adventure activism running through the festival, so we're more involved than ever. As part of the festival's weekend-long Run for Your Life itinerary, we'll be taking on our stand in the Outpost, taking groups out running and litterpicking, and compering a screening of films. The
Run for your Life
screening on Sunday night is made up of six films, and very luckily I've watched them…
So, what are they about, and are they any good?!
A Mile an Hour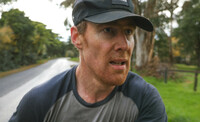 "A different kind of marathon; running one lap an hour for 24hrs around a perfectly mile long block."
This is a great little film about a chap called Beau. He seems a very nice dude, he has a lovely barn, and he makes really nice things from wood. The point of A Mile an Hour is to see what can be achieved in a one day – while running a marathon. He starts with a list, and for twenty-four hours runs one mile an hour (three in the first hour, maths-fans), in between ticking off items from his list. It's a great positive film showing the potential of a day. Beau has an infectious childish attitude and the film makes you think of all the options if running was part of your day rather than a separate activity. Best of all, he picks up rubbish in mile 4. Nice one Beau.
Top tip – watch out for the surprise in mile 23… You think you know a guy then this happens!
For The Love Of Mary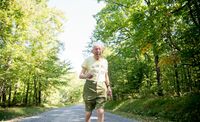 "A 97-year-old man runs the same race every year in loving memory of his wife, Mary."
There's very little so say about this film, and I cannot imagine anyone not being inspired and uplifted by it. The description tells you most of the story, but there's more to it than that. It's a beautifully made and really simple and lovely film about a man who at the age of 97 is still running and still part of a community of runners. He doesn't run fast, but he has more passion and love for the sport than many a quarter of his age do. Watch, be inspired, and maybe cry a bit…
PĂOBÙ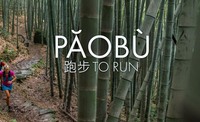 "Running is currently one of the fastest growing outdoor activities in China. Six years ago trail running was almost unheard of."
Paobu is a Salomon film, so there's a certain slickness to it and lots of lovely Salomon gear to look at, but it's not about kit or brands. From my point-of-view it's about two things: The dramatic increase in running in China, and the growing feeling of obligation felt by Chinese runners to look after the trails and the nature they run through.
From the dramatic shots of huge cities we see the contrast of pristine forests, and we learn how the sport is growing rapidly in China, the health benefits, and the renewed connection with nature which runners are starting to feel. It's a great film, which will take on even more significance once you've watched Takayna.
One point though – Lucy Bartholomew says going running and picking up rubbish is "pretty amazing"… We don't think it is, we think it's easy, obvious and part of our duty as humans in nature
Sacred Strides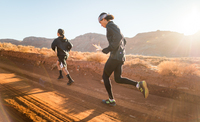 "In March 2018, a group of tribes put their differences aside and came together to run 800 miles to Bears Ears and to send a message of unity"
Before this film I knew very little about native tribes in the USA, and the recent dramatic cuts to the protection of sacred sites. Sacred Strides introduces this background and makes it clear that despite suffering from the same cuts in protected areas, many of the indigenous tribes in the US do not historically have positive relationships.
However, as the film progresses we see more and more that the tribes are willing to put aside their differences and embark, together, on a huge pilgrimage from multiple starting points to the sacred site at Bears Ears. It is clear to see how important this is to the men and women involved, and we see people of all shapes and sizes running – seeing it as their duty to help raise awareness of the threats to the sacred sites. This film might teach you a lot, and will certainly make you realise how powerful running can be to break down barriers between groups. We don't often see running being this important.
Warning: Contains Donald Trump.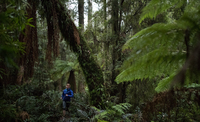 "This documentary, presented by Patagonia Films, unpacks the complexities of modern conservation and challenges us to consider the importance of our last wild places."
This is the longest film in the screening, and at 37 minutes has time to become a fully fledged story with context, background and characters. The focus of the film is the Takayna region of Tasmania, which is currently under multiple threats, including logging and mining. We meet Nicole Anderson, a doctor and runner. She is a lovely smiley lady and her ethos on running (to reconnect with nature, pretty much always alone, and not quickly) tells us a lot about her.
The film is beautifully made and we see some stunning footage of the ancient trees of the Takayna forests. Nicole talks about how humans only recently started to live in cities and move away from nature, and that in evolutionary terms we are still really part of the forest. It's beautiful. Until it isn't – we see the contrast, we see open cut mining and clearcut logging and the irreparable damage they do to nature. Clearcut logging is the process of clearing every tree from an area, after which the area is burned to kill everything and reduce the ground to ash, to ensure nothing competes with the new plantation which will replace the natural forest. Nicole uses her running to get out into the logging country and see what is happening. She records illegal practices and keeps the activists on top of the activities of the logging companies, which can take place well out of public view. The most upsetting moment of the film is when she returns to the area of forest she is first interviewed in after it's been logged. If you've got an ounce of environmental conscience in you, this will make your hands tense up into little fists and your teeth grind!
But it's not all negative, we meet some incredible people such as Bob Brown, a lifelong activist and politician, and a nice lady on a portaledge up a tree. And it's not without balance, since logging provides jobs. However, the overwhelming message of this fantastic film is one of activism: If we don't like what we're seeing, we need to act.
That's really the message of all the films here. In the first three films it's subtler, but the point is there, and in Sacred Strides and Takayna we see running being used as a tool to effect the change needed in the world.
You can be a running activist too. There are so many options – find what it is that you really want to change, and see how you could do it through running. Join us for some of ShAFF's awesome
Run for Your Life
experiences, including our
Reclaim the Streets
family plogging run or
GoodGym's group run
– or just get out there and start making the difference that means something to you!
Thanks for reading – see you for an epic weekend in March 🙂
Stu